Finding hide tanning books, online courses and other helpful resources is not always easy.
If you are looking for natural methods only that are respectful towards the Earth, that can make the task of choosing the right book or course even more difficult.
Below I share 10 great hide tanning books, online courses and other resources that will certainly help you start your tanning journey or dive deeper on it, no matter where you live.
There are of course many other resources out there. In this list, I share the ones I have checked personally and enjoyed, or those that trusted friends have recommended.
Let's dive in!
Hide Tanning Books
Below is a list of a few tanning books that I love and know will be very helpful for you if you're starting your tanning journey or looking to dive deeper into the tanning world.
Deerskins into Buckskins is an amazing book for anyone interested in learning how to turn their deer (or elk, moose, buffalo or goat) skin into durable, soft and washable buckskin.
This book teaches you the traditional method of brain tanning as well as how to tan with eggs, natural oils and soap.
It includes a step-by-step default method for you to follow as well as information on different variations of that same method.
It also includes sections on hide glue, rawhide, clothes making, the chemistry behind tanning and so much more!
All in all, this is an awesome book for both beginner and advanced tanners. If you're just starting your tanning journey, believe me when I tell you: this book will teach you how to tan.
Lotta Rahme is a very experienced tanner from Sweden who is well known and respected in the tanning community.
In Traditional Tanning: Leather and Furskin, Lotta shares about different tanning methods, such as fat tanning, vegetable tanning, urine tanning, alum tawing, and more.
The book also contains several sections on the chemistry behind tanning, which are super helpful if you want to understand what is happening in each step of the process.
Other topics covered are the history of tanning, preservation of skins, pre-tanning processes, dyeing, parchment and more.
I'd say this is a book better suited for someone who has already some tanning experience and is looking to delve deeper on the different tanning methods.
Having said that, it can still be very interesting and helpful for beginner tanners as well.
If you're new to hide tanning, you might be impressed by the discovery that you can tan fish skins. Yup, it's true, you can! And this book by Lotta Rahme is proof of that.
Fish Leather: Tanning and Sewing is an incredible book all about fish skin tanning.
It teaches you how to turn a fish skin into leather with different methods, including oil tanning and vegetable tanning.
It also includes information on the history of fish skin tanning, fish species useful in tanning, incredible photos of fish leather garments, practical sewing tutorials, and more.
If you have access to fish or fish skins, this book can be a great help for you to explore the magical world of fish leather.
I wrote this book in 2021 to help people looking for a simple step-by-step guide on how to naturally fat tan their own hair-on sheepskin.
In the Sheepskin Tanning Guidebook, I show you how to use natural fats (such as eggs and olive oil), smoke, a few hand tools and a lot of elbow grease to transform a raw skin into a beautiful pelt that can be used in wonderful projects.
The book covers the full fat tanning process from start to finish, including how to make your own homemade tanning solution and soften the hide both by hand and with a frame.
It is especially helpful to beginners starting their own tanning journey or people looking for information particular to sheepskin tanning.
You might be interested in: Tanning a Sheepskin in 7 Easy Steps (A Step-by-Step Guide)
I have finally got my hands on a copy of Tanning Game: Traditional Nordic Tanning Methods for Leather and Furs, thanks to the infinite kindness of Hanna Nore, and I am so grateful!
This book is a comprehensive guide to the fascinating world of traditional tanning with age-old methods and all-natural raw materials.
It contains clear instructions and a wide selection of photos as well as an extensive array of methods used in traditional tanning of hides into durable leather and beautiful pelts.
It seems to be better suited to more advanced tanners wanting to delve deeper into the craft. Nevertheless, I believe anyone can benefit from the wonderful information that this book contains.
Something I particularly loved in the book is the section where Hanna answers to common questions tanners tend to ask when things go wrong. Highly recommend it!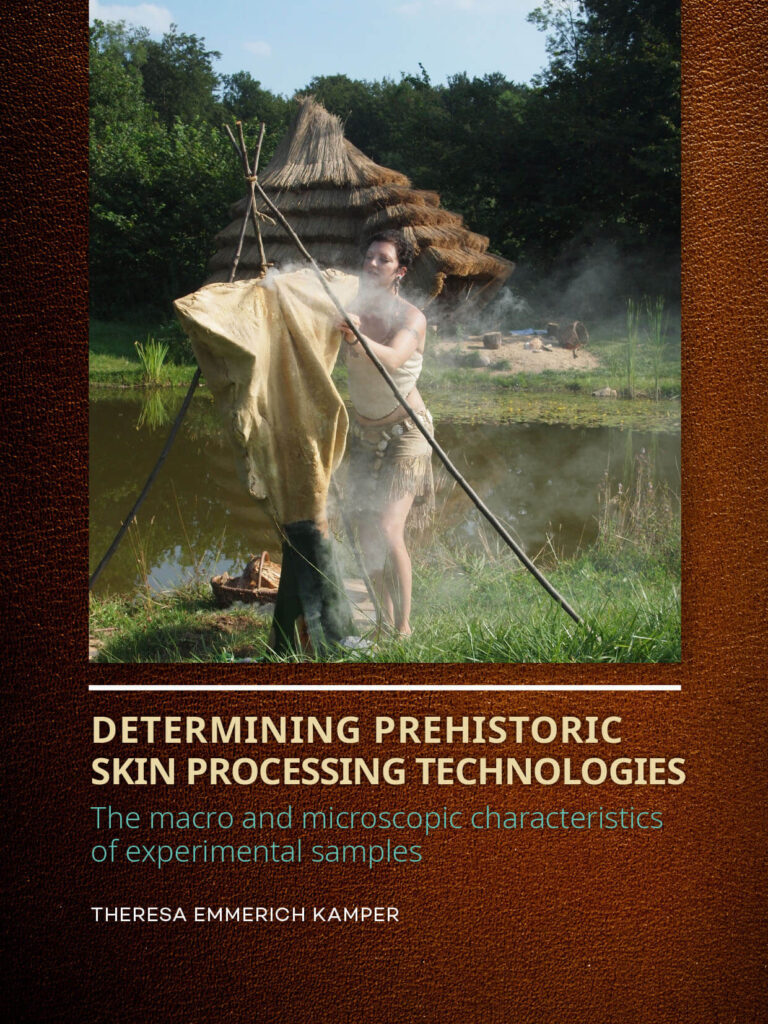 This book is not really a how-to tanning book.
The book is actually about the research by Theresa Kamper on the development of a method for identifying the tanning technologies used to produce prehistoric skin artefacts.
However, if you're into both tanning and prehistory, then Determining Prehistoric Skin Processing Technologies is an incredible resource to add to your library.
Besides the interesting research, you will have access to information on different tanning methods, particularly on chapter 4 of the book.
You will find information on fat, smoke and vegetable tanning, wet and dry scraping, alum tawing, tanning chemistry, and more.
It is ideal for more advanced tanners, specially those with an interest in prehistoric tanning technologies.
Online Hide Tanning Courses
If you have a hard time learning hide tanning through books and prefer a more hands-on approach, but don't have access to local in-person courses, this list is for you.
Below I share with you some high quality courses with experienced tanners that are really worth it.
Matt Richards recently started teaching how to make leather from the comfort of our own kitchen via Zoom classes, and these are really good.
Matt has been tanning and teaching tanning for 30+ years. He is the author of the best selling tanning guide Deerskins into Buckskins that I mentioned above.
I did his Basics of Barktan zoom classes and found them invaluable!
They are perfect for beginners but also amazing for those with already some experience in the craft. Believe me when I say this, you will learn a lot.
I already joined one of his new courses and can't wait to keep learning from Matt.
Can't recommend enough!
I've had the pleasure of learning from Mara Cur through her fur-on smoke-tanning guidebook and one of her online Hide Tanning Storylines classes a few years ago.
Both of these resources morphed into something new when Mara launched Fern & Roe, which offers natural hide tanning education, both in-person and online.
Together with other experienced instructors, she offers different online programs and mentorship. Definitely worth checking out!
Janey Chang is an artist, educator and fish skin tanner on a path of remembering how to be human and alive through the (re)learning of ancestral skills.
She teaches fish skin tanning online classes on a regular basis as well as in person courses.
I haven't attended one of her courses (yet!), but I know the online classes are amazing from the wonderful reviews I've read from her students.
If your wish is to dive deep into the sea of fish skin tanning, check out Janey's classes. You will be amazed by the beauty of fish skin leather.
Free Hide Tanning Resources
In this section, I share with you some free online tanning resources, including both articles and YouTube videos.
Some go more in-depth, others are better used as an introduction to the craft.
Regardless, they are all worth reading, specially if you're just starting.
Tanning a sheepskin naturally by yourself might sound like a daunting task, specially for people with no experience in tanning.
Which tanning tools should I use?
How do I make my own homemade tanning solution?
How do I preserve a skin and how do I make it soft?
These are questions that you might have already asked a few times.
In this article, I answer these questions and more, so you can easily start tanning your own sheepskins at home.
This article is based on my book Sheepskin Tanning Guidebook.
If you read the article and feel curious to go deeper, you can read more about the book here.
Traditional Tanners have compiled over 100 pages of detailed articles written by very knowledgeable experts.
They contain great information on different tanning methods, tanning different animal skins, skin storage and so much more.
These articles are meant to introduce you to various aspects of tanning, to go further with your skills once you understand the basics, or for research.
Traditional Tanners has also written an article about books they recommend for tanning (and those they don't recommend). Check it out here!
Skillcult is a website and youtube channel created by Steven Edholm.
Through these platforms, he shares about different practical arts and self reliance skills.
If you jump to the tanning and leather category, you will find plenty of information about tanning.
The great majority of the information is in video format, which can be super helpful for beginners.
One of Steven's article and video is also about tanning books he has collected over the years. You can visit that article here to go even deeper.
Wrapping up
In this article, I shared with you some of my favourite hide tanning books, courses and resources (so far!).
Keep in mind that this is not an ultimate list as there are many other resources out there that could potentially be included in it.
My hope is to update this list on a regular basis as I have the chance to put my hands on new books and attend new courses.
Last but not least, what are your favourite hide tanning books or courses? Did any of these piqued your curiosity?
Let me know in the comment section below 😊
In the meantime, happy tanning and take care!